Weak laws and armed conflict worsen deforestation in Borno
It was late afternoon and the sun was shining at its peak in Maiduguri, Borno state, but the scorching weather did not deter residents from going about their daily business.
A creaky old Toyota pick-up truck, overloaded with neatly stored wood, had just arrived at the Muna firewood market from the Mafa axis along the Maiduguri-Gamboru-Ngala road. A group of elderly men, who had been waiting for his arrival, quickly left the shade of a tree and walked towards the truck to inspect the cargo. About 15 minutes later another loaded pickup truck arrived.
"On a good day, we usually get more than 10 of these loads of firewood here in Muna, and that's not counting the big trucks that carry bigger logs of firewood," said Ba'Kazalla Ari, 67. years, a displaced person. of Mafa and leader of the firewood sellers in his community.
Ever-growing firewood pyramids, either in their original trunks or in their split sizes, are commonplace on the market. Young men cut larger logs for firewood merchants. In one corner, a group of men were carving mortars, pestles, hoes, and stools out of fresh logs. Occasionally, private vehicles parked at the side of the road as owners stopped to buy firewood for their household use. Women and children who could not afford to buy collected scrap wood to take home.
Ari said he had no known business other than selling firewood for a living.
"I have been in this business for over four decades now and that is why I am the chief firewood trader in my community," he said.
"That's what kept me and my family in Mafa even before we were displaced a few years ago. And when I arrived in the Maiduguri camps, I had no choice but to continue the activity despite all the risks involved.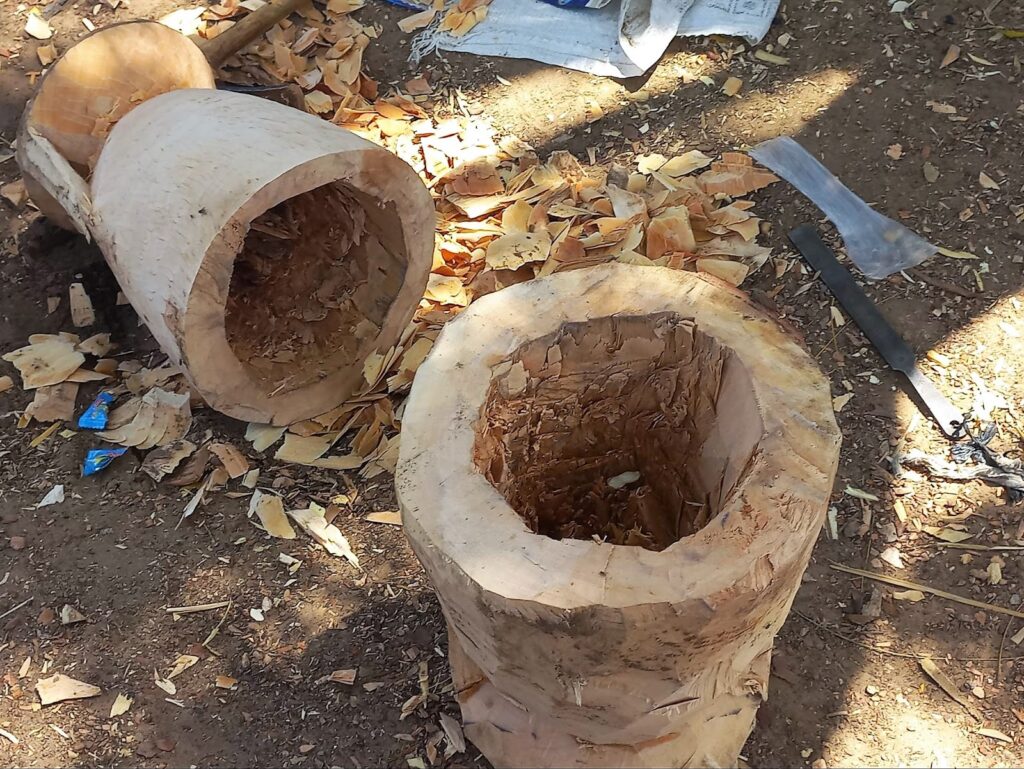 Ari is one of many merchants operating in one of the biggest firewood markets in the Muna Garage district of Maiduguri. Next to the market is the Muna Displaced Persons Camp where he lived before getting an apartment in the township. Most displaced people depend on the market ecosystem for their survival.
Especially with the rising cost of kerosene and cooking gas, many residents of Maiduguri now depend on firewood to meet their daily cooking needs.
It was found that the biggest customers of traders are bakery owners and "suya" (roast beef) co-operators who also depend on wood for their business.
"We sell the large logs which are very hard and slow to burn to bakers and suya owners, as more than 95% of them depend on local use of wood for baking or roasting," said Abubakar, 39 years, truck driver.
"The high demand for firewood, due to poverty and the rising price of gasoline and kerosene, has put some pressure on firewood sellers even as the business has become increasingly more lucrative. Tree fellers now have to travel deep into the bushes to cut firewood, due to its growing scarcity.
Depending on the nature or quality of the wood, a van fully loaded with firewood costs up to ₦50,000 ($117).
"The least you can buy a firewood van is ₦40,000 ($94)," Ari said.
There is usually a rush to accumulate more firewood during the dry season as access to the bush becomes difficult when it rains.
"Normally, we don't get firewood during the rainy season because vehicles are usually stuck in swampy places, which gives us time to focus on agriculture," he said.
This multi-million naira business of felling trees and burning wood for cooking poses a serious threat to the environment, as the loss of trees and other vegetation induces negative impacts such as increased movement of greenhouse gases, climate change, desertification and floods.
However, many of those who cut trees seem to be unaware of these consequences.
"It wasn't all kinds of trees that we were cutting down," Bukar Masta'a explained.
"But with the increase in demand and the decrease in the availability of wood, young loggers are cutting down all kinds of trees. We have no choice, sometimes, but to buy them while they are flammable.
Ari, however, clarified that the government, through the rangers, usually gives them a list of trees, mostly economic trees, that they are not allowed to cut down.
The Borno State government has laws that govern the use of forest resources and prohibit acts like cutting down trees. But it seems that the stipulated sanctions are too passive to ensure compliance.
HumAngle has learned from environment ministry officials that a significant number of tree species have been lost to loggers because "people are now cutting trees straight from the roots".
"We have lost about 80 major tree species because this unhealthy practice of cutting down trees has become a livelihood issue and there are no strict laws to limit this act of destruction to our ecosystem," Ahmadu said. Mafa, permanent secretary of the ministry.
"Borno once had a tree sanctuary with abundant forests, but these resources are disappearing due to tree felling. The government has laws prohibiting the felling of trees, but the laws are too weak to stop deforestation. Imagine a fine of only ₦500 ($1) as a penalty for cutting down an entire tree.
When felled, a large tree can fill an entire truck, which is valued at around ₦50,000 in the local market.
"A fine of ₦500 cannot stop a perpetrator from cutting down more trees because he can easily pay because he makes so much money out of it," observed the permanent secretary.
He said the state must review legislation under the 1994 Borno State Laws to prevent further deforestation.
Abdulwasiu Alfa, a constitutional lawyer based in Maiduguri, said the fine for deforestation activities is so low because they were adopted from the 1963 laws of northern Nigeria, noting that some of the fines are in foreign currency. foreign.
"You can imagine that at the present time of our existence as an independent state, we still have fines in Borno state laws which are in pounds and shillings," the former president said. of the Nigerian Bar Association (NBA), Maiduguri Branch. .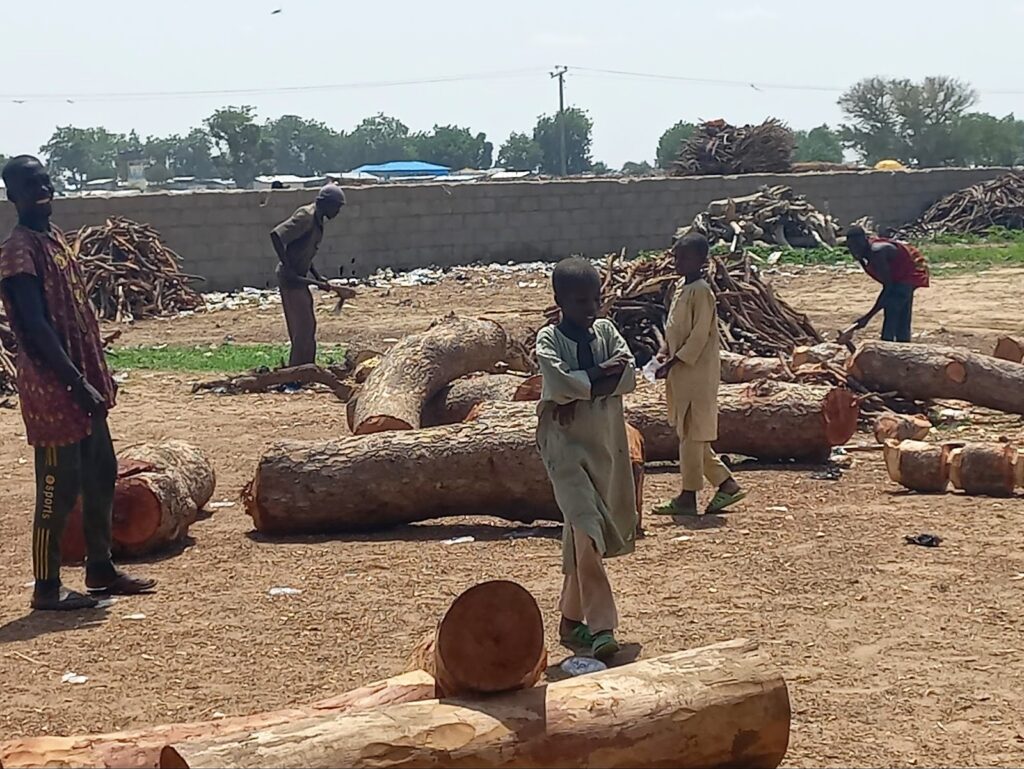 Mafa explained that apart from the impact of human activities, the ongoing armed conflict in Borno due to the Boko Haram insurgency has also slowed down government reforestation projects.
"The state government launched a program to plant 10 million seedlings in two years, but this was not possible due to insecurity," the permanent secretary said.
The government had launched the 10 million tree planting project in June 2020 with the first phase of one million trees to be planted in the northern part of the state for the anti-desertification program.
The following year, he launched the planting of another million trees across the state and so far, he is no closer to meeting the goal of planting up to 10 million.
"We normally start planting or distributing tree seedlings in August when the rains are more abundant, but with the insecurity we cannot reach our designated windbreak communities where most trees are planted for combat desertification," said Mafa.
Despite the negative impacts of their trade on the environment, the firewood cutters insist that they operate within the bounds of the law.
"We pay ₦10,000 a year to local government council officials who issue us receipts which serve as permits to cut trees," Ari told HumAngle.
"We tip cash to police and military personnel at checkpoints along the way to avoid trouble. We also participate in tree planting whenever the government wishes. They usually give us the seedlings and we know the best places to plant them in the bush.
The timber trader added that rangers usually give them a list of specific trees that are forbidden to be cut, so they stick to trees such as Adduwa, Gawashi, Kanga, Marke , the Danya and the Mariya.
"We don't go into the bush without government permission and we make sure that not all the trees are cut down."
---
Support our journalism
There are millions of ordinary people affected by conflict in Africa whose stories are missing from the mainstream media. HumAngle is committed to telling these difficult and under-reported stories, hoping that those affected by these conflicts will find the safety and security they deserve.
To make sure we continue to provide public service coverage, we have a small favor to ask of you. We want you to be part of our journalistic enterprise by bringing us a token.
Your donation will further promote a strong, free and independent media.
Donate here